This course requires access to an x86-64 computer that can run VirtualBox and the course virtual machine (a Windows XP machine). If you do not have access to one, labs must be done in person on machines within MCECS.
You will also be setting up a variety of accounts and machines for running labs, solving homework problems, and submitting notebooks.
We will now setup the course VM. A video walkthrough is shown below:
There are multiple options for setting up your VM. Choose the one that suits your environment.
Option #1: Your personal computer
Download a copy of VirtualBox. VMware Player can be used, but directions are not provided
Download a copy of the course VM as a .ova file from the course page (492_WinXP_x86.ova)
Launch virtualbox
Within VirtualBox Manager, import VM appliance via: File=>Import Appliance
Select the .ova file you have downloaded
Within VirtualBox Manager, click on your VM and then click on "Settings". In General=>Basic, change the name of your VM to your OdinID (to appear in screenshots). In System=>Motherboard, change the Base Memory slider to 2GB (2048 MB)
Start the VM by double-clicking it, then shut it down so it can perform software updates
Bring the VM back up and change the Administrator password. Right click "My Computer" => "Manage". Then, select "Local User and Groups" => "Users". Right-click on Administrator user and click "Set Password"
Option #2: Linuxlab
The environment on linuxlab allows you to either download the VM onto a local partition (/disk/trump) or to a partition on a central server (/stash/cs492/class). Only users in the vagrant group can do so. You should have been added to this group if the class is being offered in the linuxlab.
Some differences in installation include:
Rather than download the .ova file, simply access the copy that has been placed locally for you at /disk/trump/cs492/492_WinXP_x86.ova when performing the import.
The initial VM will be imported to the same local directory. To change the location of the VM, within VirtualBox Manager, go to Files=>Preferences. Specify a "Default Machine Folder" to be /disk/trump/cs492. The initial VM will only be accessible on your current workstation.
If you wish to run this VM on any linuxlab machine, then you will need to put a copy of it on the central MCECS file server. To do so:
Create a directory on the central server (mkdir /stash/cs492/class/)
Then rsync your local VM directory (/disk/trump/cs492) over to it (/stash/cs492/class/)
Run virtualbox and change the location of the VM. Within VirtualBox Manager, go to Files=>Preferences. Specify a "Default Machine Folder" to be /stash/cs492/class/.
On a computer you wish to do your coursework on, install a Ubuntu 20.04 VM.
Ubuntu ISO
First, download the desktop installation CD image (iso) at https://releases.ubuntu.com/20.04/ . Note that if you choose to use an alternate version, we may not be able to help you debug issues you have on your setup.
VirtualBox
Then, download and install VirtualBox at https://www.virtualbox.org/wiki/Downloads. Note that those with a Windows OS may skip this step and instead use Windows Subsystem for Linux (WSL) to install Ubuntu.
Launch VirtualBox and click on "New" to create a VM. create a VM whose name is your OdinID, so that it appears in all of the screenshots for your lab notebook done on the VM. The configuration should be done as shown below:
Name: OdinID
Type: Linux Version: Ubuntu (64-bit)
Memory size: 2048MB (if you have sufficient RAM on the host)
Number of Processors: 2 (or more)
When creating a virtual hard disk
File size: 20.0 GB (Dynamically allocated VDI)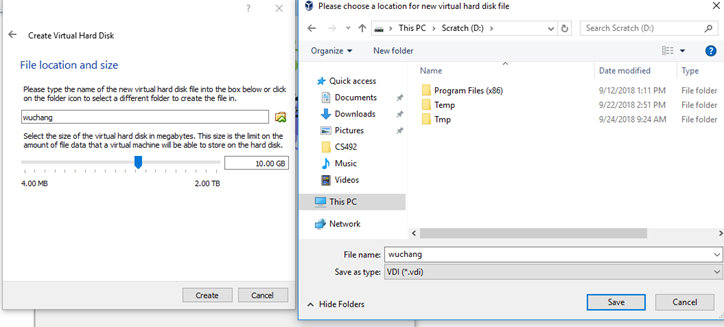 Then, in Settings=>Storage=>CD drive:, click on the CD icon. Choose "Virtual Optical Disk File..".

Select the ISO you just downloaded. Then, click "Start" to boot VM using the ISO as a startup disk. When prompted, install Ubuntu. After installation, restart the VM and then login to it. Within the VM, install git, Python, Python's package manager, and Python's virtual environment tool:
sudo apt update –y
sudo apt install python3-pip python3-dev python3-venv git -y
Also install docker and its packages. Add yourself to the docker group so that you're able to run the docker commands without sudo.
sudo apt install docker.io -y
sudo usermod -a -G docker $(whoami)
Power down the VM.
Visit the VirtualBox General settings for the VM to enable the shared clipboard. Note that you may need to install the Guest Additions on the VM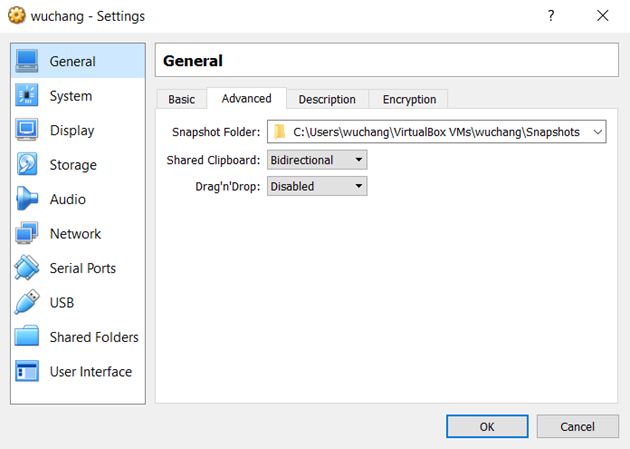 If you're not aware, there is a Slack workspace for computer science students here at PSU. If you haven't already, create a Slack account, join the workspace at https://pdx-cs.slack.com and add the course channel linked on the course web page. All course communication will be done through this platform; check the pinned section for important updates. Note that the course has a corresponding webpage for more permanent information. You can contact the professor via Direct Message @wuchang.
If you have a sensitive comment that you wish to notify me of anonymously, you may do so by visiting this page in an Incognito window: https://bit.ly/sayat-wuchang
We'll be using GitLab for the course's source control. Create an account via Google using your @pdx.edu email address by visiting https://gitlab.com/users/sign_up.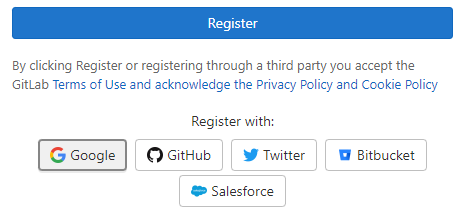 Upon completion, use the same credentials to login to GitLab. After logging in you should see the following:

Go to the upper right hand corner and click on the dropdown that is your user profile. You should see the option for "Preferences". Click on this option and you'll be taken to a page for customization of your avatar, status, and main settings.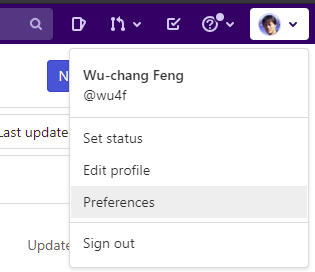 In the left hand column there is an entry for SSH Keys. Select that entry and wait here. We're going to create a local public/private key pair to securely transfer data between the local repository and this remote hosted by GitLab.
SSH Keys
We will now create a local public/private ssh key pair on our Linux VM to securely transfer data between a local git repository and this remote hosted by GitLab.
Log into your Linux VM and change into the directory where SSH keys are stored:
cd ~/.ssh/
If you have not setup an SSH key before, perform the following
ssh-keygen -t rsa
We're specifying rsa here for clarity, although this is the default encryption method. Hitting enter will create a file named id_rsa which we'll use as an example. You should now have two files containing the key-pair in the ~/.ssh/ directory. One has a .pub extension and is your public key. The other is your private key and should never be revealed.
We will now add this public key to GitLab. Dump the contents of the key out:
cat id_rsa.pub
Then, copy and paste this into the SSH key field on GitLab in your browser. Finally, click "Add Key".
Create Project
Go back to the projects page and create a "New project" that is blank.



Name the new project via the ProjectName above. Make sure the repository is still marked "Private" and initialize it with a README file.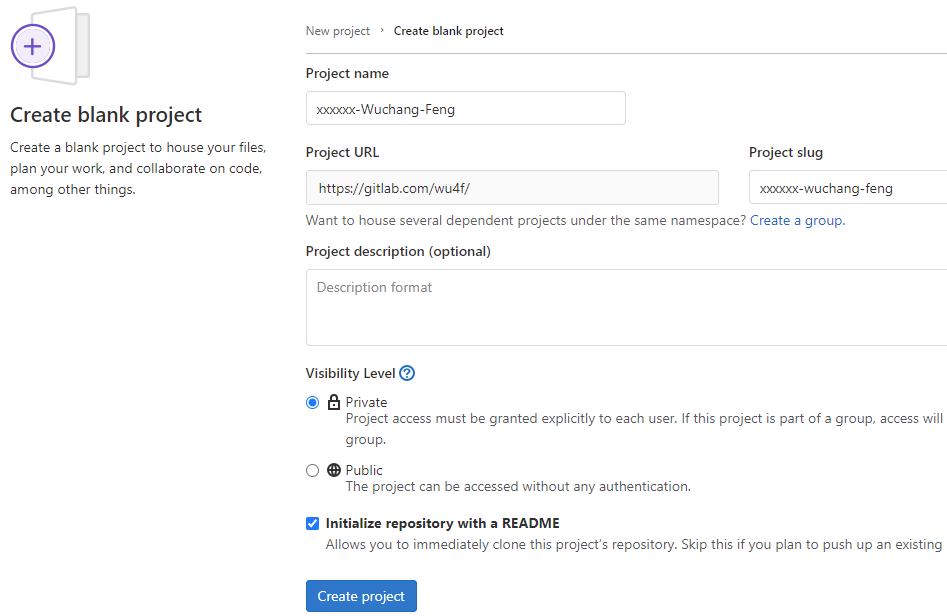 Invite Instructor and TA as project developers
Next, go to the Settings tab and select members. From here you can add members to your project by typing in their username. Add the instructor and the TA as Developers to your project via their pdx.edu e-mail addresses (e.g. @pdx.edu where OdinID can be found on the course web page), as in the images below.

Setup client
On your Linux VM, set up your name and e-mail address for git.
git config --global user.name "<FirstName> <LastName>"
git config --global user.email "<OdinID>@pdx.edu"
Then, clone the repository to your machine and change directories into it.
git clone git@gitlab.com:<GitLab-Username>/<ProjectName>.git
cd <ProjectName>
We will now edit our first file and commit its changes to our repository. To do so, edit README.md file to show multiple styles of titles and lists in Markdown. Then, stage the file for addition, commit the file to the local git repository, then push the local commits to the remote version on GItLab.
Now, add it to the list of changed files that you want to stage to commit to the repository.
git add README.md
Commit all changed files that have been staged to the local git repository.
git commit -m "add README"
Then, push the copy of the local Commit all changed files that have been staged to the local git repository.
git push -u origin main
.gitignore
It is often the case that you'll have files in your local directory that you do not want added to your repository. To specify that these files should not be included in any commits, git uses a file called .gitignore. Create a .gitignore file that contains files that are common to Python that you do not want to add to your repository.
env/
*.pyc
__pycache__/
Then, add it to the files you wish to commit, commit the file to your local repository, and then push the local repository to its remote.
git add .gitignore
git commit -m "Adding .gitignore"
git push -u origin main
git basics
Read the first 6 steps of the following link. You will need to become proficient with the following git commands for this course or use an IDE such as VSCode that can perform the operations for you.
git clone : Fetch a copy of a remote repository
git add : Add a new file and/or directory to local repository
git commit : Commit changes to local repository
git push : Merge changes from local repository to a remote one. Implicitly assumes "origin" (place that you retrieved repo from) and "main" (branch)
git pull : Merge changes from remote repository to your local one. Implicitly assumes "origin" (place that you retrieved repo from) and "main" (branch)
Initial Lab notebook
To practice the commands, we will create, add, commit, and push an initial lab notebook. Subsequent notebooks should follow this format, replacing the week number.
cd <path_to_your_repository>
mkdir notebooks
touch notebooks/Week0.pdf
git add notebooks
git commit -m "initial notebook"
git push
Incognito mode
To avoid applying the coupon you receive to the incorrect account, ensure that these steps are done in an "Incognito" or "Private Browsing" browser window to set up your account.


Then, visit https://console.cloud.google.com and login using your pdx.edu account to enable GCP. If you haven't used GCP yet and do not mind temporarily putting your credit card on the account, apply for the $300 coupon and use it to create a new billing account. Otherwise, wait for the instructor to email you a course coupon.
Create Project
Click on the pdx.edu organization from the console.

Then, click on "New Project"


Create a Google Cloud project with your ProjectName from above.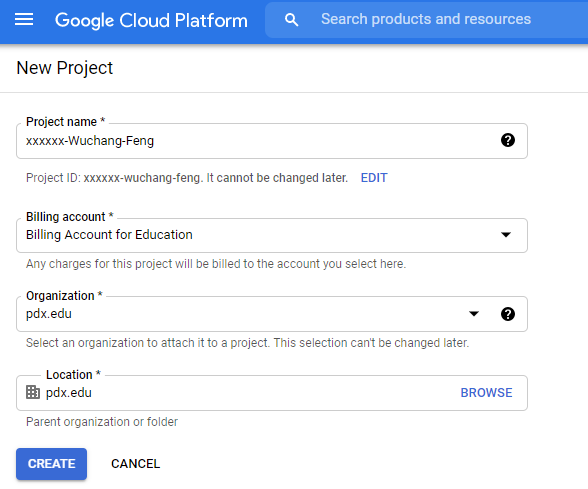 You should be taken to your project's Home page. For your lab notebook, you will need to ensure that all of your screenshots for your Google Cloud labs include your ProjectName.
To examine your Billing account and its usage, go to the Billing page from the console at https://console.cloud.google.com/billing